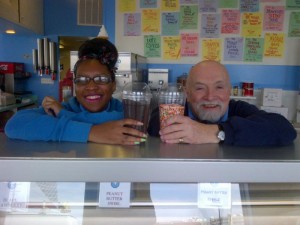 Justine's Ice Cream Parlour is proud to announce a second location for you to enjoy our shakes, sundaes, malts and floats in Ocean City, MD at 123rd Street and Coastal Highway.

The new shop offers 40 ice cream flavors, "Justine's Famous Wall of Shakes", our classic old fashioned ice cream sodas, floats, as well as a variety of our specialty sundaes.
The Ocean City location also offers soft serve vanilla and chocolate swirl, custom made ice cream cakes, homemade fudge and the Titanic.
If any brave customer can survive the Titanic Sundae in 30 minutes or less they will receive a free Justine's T-shirt.
This year Justine's was recognized by "Chesapeake Bay Magazine" as one of the best ice cream parlors on the Bay.
With the opening of the new store in Ocean City, manager Tom Quimby will bring his legendary shakes to new and old friends at the beach.
"For over 25 years Justine's has held a very special place for locals and visitors in St. Michaels, MD for ice cream," said Quimby. "We hope to do the same in Ocean City!"
Justine's Ocean City is open Sunday – Thursday 12pm – 11pm and on Friday and Saturday 12pm – 1am.
For more information about the new Ocean City location, visit justinesoc.com or call (410) 250 – 5003.
June 20, 2013 This post was written by Kathleen Categories: Event • Ice Cream • Information Message • News No comments yet