The Best Ice Cream in Ocean City, MD!
Are you looking for the Best Ice Cream in Ocean City, MD ?We are happy to break the news:
Today May 4th, 2013  at 12:00 pm, Justine's Ice Cream Parlour opened doors in Ocean City, MD! You will find our second location at 12207A Coastal Highway (123rd Street), Bayside.
You will find more than 35 ice cream flavors,more than 50 classic and original shakes (all made the old-fashioned way), ice cream sodas,floats and our Special Sundaes! Do not forget about THE TITANIC! We have a challenge for you:Survive THE TITANIC Sundae in 30 minutes and get a FREE Justine's T-shirt!
Enjoy the Best Ice Cream in Ocean City, MD!
Premium Flavor Selection:
BANANA
BING CHERRY
BIRTHDAY CAKE
BLACK RASPBERRY
BUTTER BRICKLE
BUTTER PECAN
BUTTER PECAN NSA RF
CARAMEL CARIBOU
CHERRIES JUBILEE NSA RF
CHOCOLATE
CHOCOLATE CHIPS
CHOCOLATE ÉCLAIR
CHOCOLATE MARSHMALLOW
CHOCOLATE PEANUT BUTTER SWIRL
COCONUT
COFFEE
COOKIE DOUGH
COOKIES & CREAM
COTTON CANDY
CRAZY VANILLA
DOUBLE FUDGE BROWNIE
ESPRESSO CHIPS
HEATH CANDY LF YOGURT
MINT CHOCOLATE CHIP
MINT CHOCOLATE CHIP NSA
MOOSETRACKS
MOOSETRACKS NSA/RF
PEACH
PEANUT BUTTER RIPPLE
PEANUT BUTTER YOGURT
PISTACHIO
RED VELVET
ROCKY ROAD
RUM RAISIN
SHERBERT- ORANGE
SHERBERT- RAINBOW
SORBET- LEMON
SORBET- RASPBERRY
STRAWBERRY
STRAWBERRY CHEESECAKE
SWEET&SALTY CARAMEL PRETZEL
VANILLA BEAN
VANILLA CHOCOLATE SWIRL NSA/RF
VANILLA FF/NSA
We serve in a cup,cake, sugar and waffle cone.
Do you love fudge? If the answer is yes, we have a big surprise for you! Justine's  offers HOME MADE FUDGE made with REAL BUTTER AND CREAM! We are proud to say that the quality and the taste of our fudge is superior to any other fudge that you would find in OC!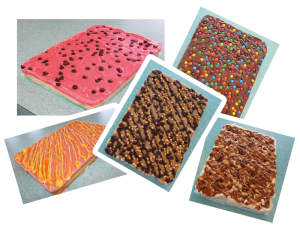 Among Justine's fudge flavor selection you will find:
Chocolate Fudge
Chocolate & Walnuts Fudge
Chocolate with M&M-s Fudge (NEW!)
Chocolate & Caramels Fudge
Peanut Butter & Chocolate Fudge
S'mores Fudge
Mango Coconut
Peanut Butter Explosion Fudge
Rainbow Sherbert Fudge (NEW!)
Rocky Road Fudge
Watermelon Fudge (NEW!)
Caramel Pecan Pretzel (NEW!)
Peanut Butter Fudge
Coffee Toffee Fudge
We Love Ice Cream!
Justine's
May 4, 2013 This post was written by Kathleen Categories: Event • Information Message • News No comments yet